Nice MOFOB adjusted synchronised photocell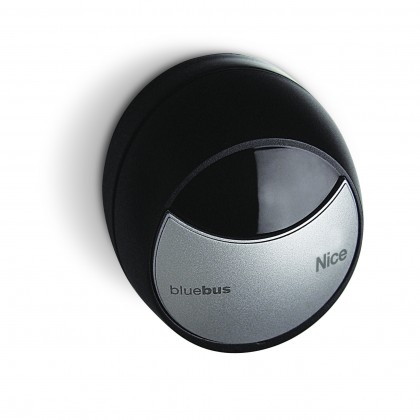 MOFOB HAS VERY LOW STOCK.

Please note, the MOFB HAS BEEN DISCONTINUED AND REPLACED BY THE EPMB.

Fixed or adjustable, synchronised photocells with BlueBUS technology.

The MOFB and MOFOB Photocells are obstacle detectors which make it possible to detect obstacles on the optical axis between a transmitter (TX) and a receiver (RX), type D according to Standard EN12453. These devices can only be connected to 'BlueBUS' networks, from which they receive their power supply and sends the output signal.

These devices are equipped with a Nice BlueBUS communication system which makes it easy to connect all the devices up to the control units using two wires only.

The MOFOB version, which can be adjusted, will solve the problem of compensating centring gaps up to 30°

The IB interface enables the user to connect obstacle detectors using BlueBUS technology (MOFB and MOFOB photocells) and control units with inputs for tradition photocell contacts.
Technical
Connection Type
Bus Wiring
Beam Range
15m
IP Rating
55
Find An Installer
If you're looking for an installer to automate existing gates or install aluminium gates from our Stargate range, please fill in the form below.
The more information you can give us at this stage will help us to get the right installer for you.
They wil contact you directly and discus your requirements.
Linkcare Trade Discounts
Linkcare provides trade discount accounts for gate automation and access control installers and engineers.
We do not advertise trade discounted prices to the public.
The only way to see reduced prices in the Linkcare shop is by logging in with an installer account username and password.
You can then search for, compare, and buy any products online at the reduced trade prices.
You can also add products into wish lists for preparing quotes.
We protect your trade prices to prevent home owners from buying gate automation and access controls, and then asking you to install it. Some wholesalers sell to anyone at trade discounted pricing. This allows them to sell well, but it potentially reduces what you can earn from each installation job.
We want to ensure that qualified and trusted gate automation and access control installation professionsls are responsible for all gate automation installation so that each one is as safe as it can be.
Apply for a trade discount here or log into your trade account to see trade discounted pricing here.
.
.
.
.