Nice RUN400HS-KIT 24Vdc kit for high speed sliding gate up to 400Kg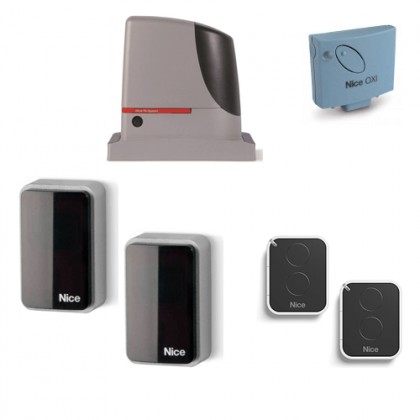 Nice RUN400HS 24v hi-speed sliding gate kit with electromechanical limit switch for sliding gates up to 400kg and 14m. The fastest sliding gate system yet: ideal for industrial and residential applications, designed for intensive use.
Opening and closing with rapid manoeuvres, the RUN400HS can open a 4m gate in around 6* seconds! (* Considering standard installation, excluding acceleration and deceleration.)
FeaturesSafe and Intelligent
Fully compatible with Nice's Solemyo solar power kit and Opera management system for GPRS and Bluetooth connectivity / operation
Connection for EN compliant 8.2K safety edges
The Nice Run series is equipped with a temperature sensor which adapts the motor force to the climatic and environmental conditions, while adapting the thermal cut-out protection and self-ventilation intensity depending on temperature readings.
A master and slave selection can automatically synchronise two motors, this makes it possible to automate 2-leaf sliding gates set opposite each otherFeatures an obstacle detection system and automatic programming of opening times
Acceleration and deceleration can be adjusted at the beginning and end of each opening and closing manoeuvre
Eight programming levelsThe Run is capable of self-diagnosis, alerting the user to faults via flashing lights
Sturdy, Practical and User Friendly
Using Nice BlueBUS technology, the control unit can be connected to up to seven couples of photocells, control, security and signaling devices, using only two wires
The control unit and backup battery (sold separately) can be connected by means of a simple connector and can be housed directly inside the motor
The Run's gear motor is on bearings, resulting in very quiet and smooth operation
Strong and sturdy pressure die-cast aluminium design with epoxy painting
Aluminium release handle for easy opening
The kit contains:
1 x RUN400HS Hi-speed electro-mechanical gear motor (24v)

1 x RUA6 Integrated Control Unit

2 x ON2E Transmitters

1 x EPMB Pair of BlueBUS Photocells

1 x OXI Receiver
Technical
Max Gate Weight
1200Kg
Max Speed
18cm/sec
Motor Voltage
24Vdc
.
.
.