Nice ToonaKit 24Vdc ram kit for swing gates up to 5m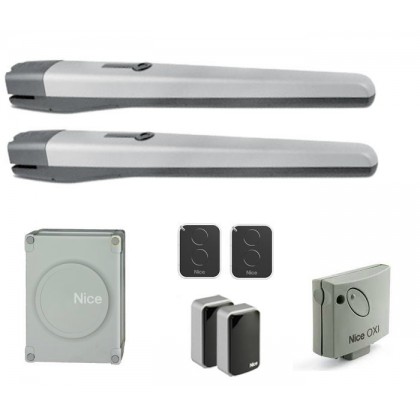 Available in single (ToonaKit 7) and double (ToonaKit 4) versions.
New third generation models: quality and durability thanks to the housing, made up of two tough aluminium shells with polyester paint finish; more resistant to atmospheric agents.
24Vdc version with magnetic encoder. Perfect for intensive use, compatible with the control unit Moonclever MC824H, equipped with BlueBUS, and provision for operation with the systems Solemyo and Opera.
The kits contains:
1 or 2 x TO5024 24Vdc irreversible electromechanical gear motors, with magnetic encoder, mechanical stop in opening
2 x ON2E transmitters 433.92 MHz, 2 channels
1 x MC824H control unit for two motors, with 24Vdc encoder
1 x EPMB pair of outdoor photocells designed for connection via Nice BlueBUS
1 x OXI receiver up to 4 channels with connector, without built-in transmitter.


Technical
BlueBus
Yes
IP Rating
44
Max Gate Leaf Length
5m
Max Gate Weight
500Kg
Motor Voltage
24Vdc
Solar Power Option
Yes
Speed
1.6cm/sec
Work Cycle
95