Nice Lucy flashing signal safety light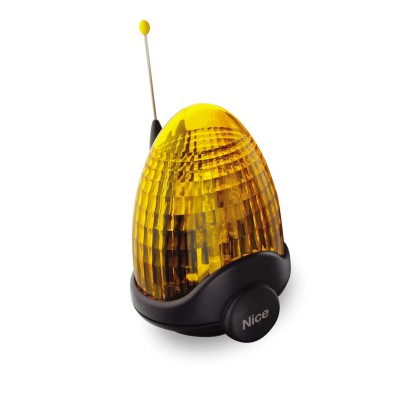 Available with different voltages: 230 Vac, 24 Vdc/Vac and 12 Vac/Vdc.
• Waterproof, shock-resistant, polycarbonate container: protection cage unnecessary.
• Designed to accommodate 40 W (Lucy 230 Vac) or 25 W (Lucy 24 Vdc/Vac) and 21 W (Lucy 12Vac/Vdc) lamps.
• Designed to accommodate assembly of adjustable aerial, tuned into various frequencies (the ABFKit aerial is featured in the remote control pages. A photo has also been included to explain the characteristics of the product more clearly).
• PO rest (support bracket) for projecting vertical or horizontal assembly, Lucy and the photocells from the F, BF and Moon series.
LUCYB model:
complete with incorporated aerial 433.92 MHz and 12 V 21 W lamp, for control units with internal flashing circuits such as RobusKit.
Technical
Power Supply
230Vac, 24Vdc/Vac, 12 Vac/Vdc